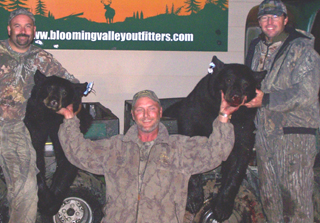 Outfitter: Larry Emery
Location: Greenbush, MN
Accessibility: North of Thief River Falls
Specializing In: Fall Black Bear Hunts
Hunt Packages: 3 or 5 Day Hunts (Call for pricing)
Lodging: Modern comfortable cabins (All Included)
Meals: Home cooked (All Included)
Phone: (218) 843-1316
Email:
lemery@wiktel.com
FIRST CLASS 3 & 5 DAY HUNTING PACKAGES FOR BLACK BEAR, BOBCAT, WHITETAIL DEER, GROUSE, & WATERFOWL
Bear Hunts
Experience a Black Bear hunt in Northwestern Minnesota with an excellent chance for success! We are located in the "No Quota" area of northwestern Minnesota which eliminates your need to send in for the permit drawing. We have an abundance of Black Bear and access to several thousand acres of prime black bear habitat to hunt on.

Blooming Valley Outfitters offers 3 or 5 day hunting packages catering to all types of hunting-archery, rifle, muzzleloader, and handgun. Hunting for bear is done over bait, we guarantee an active bait for every hunter,comfortable and secure stands are placed over the baits for relatively close shots. Hunters are escorted to and from the stands. We will help you track, haul, and skin your trophy and store it in our on-site freezers for your convenience. We can refer you to local taxidermists and meat processors
Bob Cat, Coyote and Raccoon Hunts
Come try a high paced action packed bobcat coyote or raccoon hound hunt with Blooming Valley Outfitters in northern Minnesota. Let us put our pack of seasoned hounds, hard working guides and staff to work for you. Enjoy and listen to the hounds as they track and bay your quarry.
Start off your day with a home made breakfast that awaits you at camp. Then you're off for a days hunt, start off with scouting for fresh sign of game to set the hounds upon. Get ready for the thrill of the chase and the excitement of the catch of your winter hunt.
Blooming Valley Outfitters can not guarantee 100% success, but we will provide you with the best possible opportunity to harvest the trophy of a lifetime. We have the Experience, Equipment, and Expertise to help you get your TROPHY!

Please let us know if you have any physical limitations or special needs, so we can ensure that you have a safe and enjoyable hunt. Call or email now for rates and availability!